INDEX 600-10x2=580px

Links to 2019 PROGRAMS and REPORTS

Vital Conversations — Program, 2d Wednesdays 1-2:30 pm

Photos and reports are arranged by month Coffee

, 4th Wednesdays 8 am

King Holiday Essay — 2018 Jan 15


Ministry in a Pluralistic World C-RP511 — Vern teaches the graduate course
2019 Jan 7 – Mar 25 — Mondays 6-9:45pm CT
Central Baptist Theological Seminary

Independence Day Essay "Sacred Citizenship"
from our Archives: The America before Trump (2-page PDF)

Annual Interfaith Thanksgiving Dinner -- TBA
with the Vern Barnet Interfaith Service Award



2019 PROGRAMS -- REPORTS -- DETAILS
---


King Holiday Essay — 2018 Jan 15
Download a PDF of Vern's 2-page summary of the genius of the spiritual approach of Martin Luther King Jr by clicking this link.
---

Evolution Weekend 2019 Feb 9-11— report pending

---
How much do you kow about Islam?
1. T/F — The three largest faiths in the world are, in order, Christianity, Islam, and Hinduism.
2. T/F — Well over ten per cent of American Muslims are African-American.
3. T/F — Records show Muslim presence in South Carolina as early as 1790.
4. T/F — Most Christians in the occupied Palestinian areas have been sympathetic to the Muslim population.
5. T/F — Judaism comprises less than one per cent of the world's population, mostly in the United States, Israel, and France.
6. T/F — Muslim slaves are buried in New York near the site of the 9/11 attacks.
7. T/F — By 1919, a mosque had been built in Michigan, by 1934 in Iowa, by 1957 in Washington, D.C., and in Kansas City by 1981.
8. T/F — The Muslim Student Association (UMKC's chapter formed by 1984), with other groups, led to the founding of the Islamic Society of North America (ISNA).
9. T/F — Saudi Arabia, our ally, a Sunni nation, is home to the Wahhabi extremist form of Islam.
10. T/F — Jesus (pbuh) is mentioned more times in the Qur'an than Muhammad (pbuh).
11. T/F — Traditionally Yaser Arafat was welcomed at the Christmas observances in Bethlehem at the Church of the Nativity.
12. T/F — Although the current administration is especially hostile to Iran, with its Shia majority, the US has never interfered with its democracy by overthrowing its government and installing a dictator.
13. T/F — The US trained a Saudi, Osama bin Laden.
14. a/b/c — Greater KC has (a) one mosque (b) three mosques (c) more than ten.
15. T/F — The first nation to recognize the independence of the United States of America was a Muslim nation.
16. T/F — The Jackson County Diversity Task force including Jewish, Muslim, Christian, and Buddhist members, formed after the 9/11 attacks to survey the 5-county area, presented a 77-page report with three pages of recommendations to the community on Sept 10, 2002.
17. T/F — Muslim lands offered Jews safety when they were expelled after the Christians reconquered Spain.
---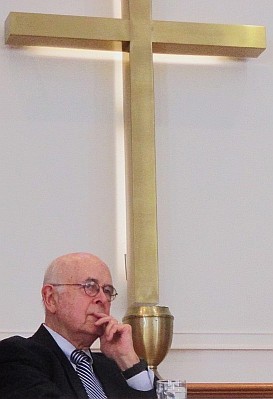 Distinguished theologian Paul F Knitter visited Colonial Congregational Church in Prairie Village 2018 April 20 and spoke on "Attitudes toward the Religious Other: The Christian Landscape," ways Christians can approach thinking about those of other faiths.
Vern had a chance to speak briefly with him before his presentation and mentioned that his 2002 book, Introducing Theologies of Religion, is one of the sources for Vern's class, "Ministry in a Pluralistic World," at Central Seminary.
Vern also commented during the forum after the lecture. One point of discussion was the difficulty of one person representing an entire faith tradition with its many historical and contemporary expressions. Vern noted that the Kansas City Interfaith Council was organized in 1989 not with representatives of 13 faiths, but with 13 people from different faith backgrounds, thus avoiding this easy trap. Even Christians forget that their faith today might be very different from another Christian's faith across the street (even within Protestantism, not to mention Catholicism or Orthodoxy) or in other parts of the world; and historical development is seldom recognized -- a Southern Baptist today may be very different from one 50 years ago.

#180430Prothero

---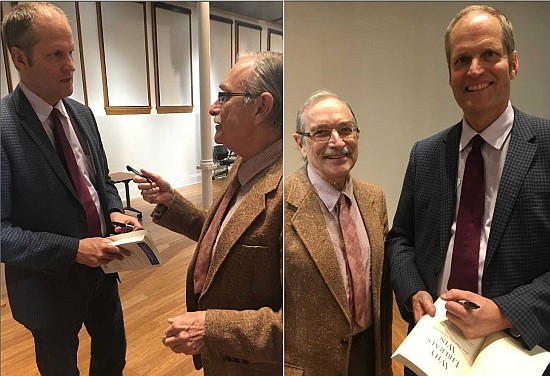 Thanks to Jen Greene for these photos.

2018 April 30, Stephen Prothero and Vern discuss the merits of Prothero's 2010 book, God Is Not One: The Eight Rival Religions That Run the World—and Why Their Differences Matter, which Vern is using as one of several texts at Central Seminary. Another member of the audience at the annual Religious Studies lecture at KU happened to have a copy of the 2011 column Vern had written about the book and showed it to them. Prothero signed Vern's copy of his new book, Why Liberals Win (Even When They Lose Elections). Prothero's lecture reviewed his earlier and continuing concern about American religious illiteracy, about which he wrote in his 2007 Religious Literacy: What Every American Needs to Know--And Doesn't.
Prothero's website is http://stephenprothero.com/.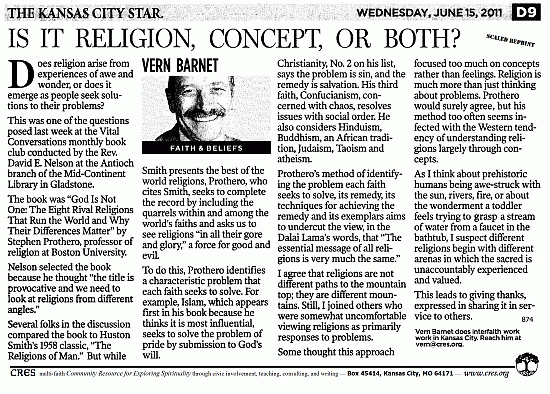 ---
Ministry in a Pluralistic World — syllabus
2019 Jan 7 – Mar 25 — Mondays 6-9:45pm CT
The graduate credit course C-RP511 is held remotely via Zoom and at
Central Seminary 6601 Monticello Road, Shawnee, KS 6226-3513.

The course, led by Dr Vern Barnet, explores these questions: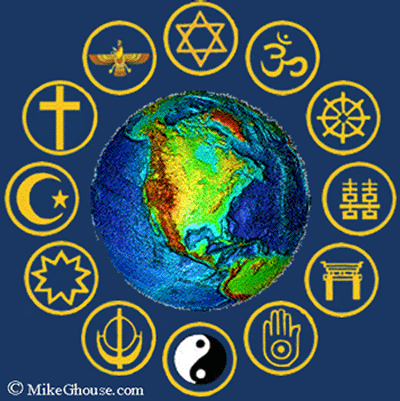 A. DISCOVERING PRESUPPOSITIONS ABOUT OTHER FAITHS -- AND OUR OWN
0. Getting acquainted: Our backgrounds, travel and other experiences, and perspectives as we approach this course.
1. What meanings do terms such as belief, dialogue, epiphany, holistic, mission, myth, pilgrimage, religion, ritual, sacred, sacrifice, scripture, secular, spirituality, and worship, have for us and today's society?
2. What attitudes have scholars identified as ways folks approach faith perspectives other than their own?
3. What does "pluralism" mean? What are its theoretical, practical, and personal meanings? How does it apply to the local community and the "global village"?
4. Where are we aided and challenged by other traditions? How might our own and other traditions address environmental, personal, and social disorders?
B. LEARNING ABOUT OTHER FAITHS
1. How do sociological, historical, phenomenological, and other methods of studying religions differ, and how do they help us understand another's faith?
2. What are the basic structures, texts, facts, practices, and variations of other faiths?
3. How do faiths compare and contrast?
4. What is more, and what is less, useful for each of us today?
C. ENCOUNTERING FOLKS OF DIFFERENT RELIGIONS
1. What are the basic styles and purposes of interfaith engagement? What are the significant interfaith organizations and programs affecting the student's community?
2. How do I discover my community's faith complexion and my opportunities within it?
3. What issues with boundaries arise and how can they be negotiated?
4. What do we learn about ourselves as we learn about others? Can I be committed to my own faith and respectful and open to others? If so or if not, what does that mean for my ministry?
#180514




____________________________
---
---
---
OTHER ANNOUNCEMENTS

WEDDINGS of all kinds click for information

We can provide a customized ceremony or direct you to a wedding chapel with low-cost package services (flowers, photographer, etc.)

THANKS to Robert and Shye Reynolds, a CRES fund to assist couples with fees for weddings has been established, to celebrate their marriage June 19, 2002, on the occasion of their thirteenth anniverary.

FORTHCOMING BOOKS
see also
our publications page

in progress: KC Star, Many Paths columns and fresh essays:
The Three Families of Faith and the Three Crises of Secularism
Many have asked for a compilation of columns Vern wrote for the KC Star, 1994-2012, and the essays fatured in Many Paths. Here are tentative chapter headings for the selections:
? The Three Families of Faith ? Faith and the Arts ? Science and Religion ? Teachers of the Spirit ? Ritual and Worship ? Religion and Public Policy ? Specific Faiths (Buddhism, Islam, etc) ? Comparative topics (reincarnation, gods, water, prophets, etc) ? How the column began and ended


OTHER
PROGRAMS
and SERVICES

If you would
like to engage Vern
or another member
of the CRES staff
for a speech,
consultation,
or other work
with your organization
or personally,
please visit www.cres.org/work/services.htm or email vern@cres.org
---

A Vital Conversation Coffee

Vital Conversations
monthly schedule
2nd Wedneday of the month 1-2:30 pm
MidContinent Public Library Antioch Branch
6060 N Chestnut Ave, Gladstone, MO 64119
(816) 454-1306
You are welcome even if you have not read the book or seen the movie
A Free Monthly Discussion Group Led by David E Nelson
C R E S senior associate minister
president, The Human Agenda
"The purpose of a Vital Conversation is not to win an argument,
but to win a friend and advance civilization." —Vern Barnet
Vital Conversations are intentional gatherings of people to engage
in dialog that will add value to the participants and to the world.
In Vital Conversations, we become co-creators of a better community.
—David Nelson
The discussions began May 24, 2002, at the CRES facility
by examining Karen Armstrong's The Battle for God
Reading is magic and a mysterious activity that feeds the mind, transports the imagination, sooths the soul, and expands life. It is most often done in solitude and yet connects us to so many others both near us and far from us. Many readers enjoy the opportunity to share their reading discoveries and to expand from the sharing of others. Reading is an important aspect of our common humanness.

—David E. Nelson

Vital Conv. Coffee
an open exchange of ideas
with no preset agenda
4th Wednesday monthly
8 am
Panera Bread
311 NE Englewood Road
Kansas City, MO 64118
816-453-2770

#2017VitalSchedule
---

2019 Vital Conversations Schedule

January 9 – Size Matters: Why We Love To Hate Big Food by Charlie Arnot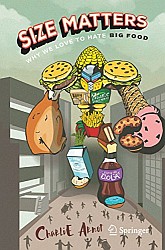 Despite food being safer, more affordable and more available than at any time in human history, consumers are increasingly skeptical and critical of today's food system. Charlie Arnot, provides thought provoking insight into how the food system lost consumer trust, what can be done to restore it, and the remarkable changes taking place on farms and in food companies. Charlie will be a part of our Vital Conversation.

Quotations and questions selected by David Nelson

Releasing Conversation: Share your name and say something about food and/or meals.

1. "The frequency and visibility of violation of public trust continue a steady march. The very institutions that are supposed to expose deception have themselves committed acts that erode public trust." (5) Do you agree? Can you name some of those institutions?
2. "The implications of these improvements in productivity are immense. For one thing, it means more food and less famine. Richard Jackson notes that since Borlaug's wheat took root, food shortages are driven more by politics than the plow." (36) How does politics result in food shortage?
3. "Science is important, but not sufficient to build trust with the growing number of consumers who look to social and digital sources of information to guide their decisions in a world where emotion and opinion carry more weight than objective fact. Fortified by sources of information that align with their values and that confirm existing bias, doubters are rejecting scientific consensus that conflicts with their beliefs." (47) Can you share an example of where your bias has gotten in the way of clear decision making based on facts?
4. "Science tell us if we can do something, but society tells us if we should…Values are grounded in firmly held beliefs, not fact-based information. The path to building trust begins by demonstrating you share the values of your stakeholders. Consumers aren't asking if we can do what we're doing, they are asking if we should do what we're doing. We've been answering the wrong questions." (52) "As Stephen Covey said, 'Contrary to what most people believe, trust is not some soft, illusive quality that you either have or you don't; rather, trust is a pragmatic, tangible, actionable asset that you can create.'" (57) How can food producers and food consumers build more trust with each other?
5. "The tribal connection influences where we get our information, but it also influences the tone, the attitude, the demeanor of our communication. While this happens naturally throughout daily experiences, it is amplified exponentially online and has led to a disintegration of civility." How does the source of where you get your news and opinion impact your behavior and relationships?
6. "Author Douglas Rushkoff describes the situation well. 'The television era was about globalism, international cooperation, and the open society…Digital media, by contrast, are made up of many discrete samples." (79) Can you identify some examples of this reality?
7. "The global food population can be divided into three groups: the satisfied, the undernourished and the over-nourished…Global hunger increased in 2016, the first increase in more than a decade. The battle to assure everyone is fed is as old as humankind." (87) "We are invited to dinner. Dinner without dogma, but with lots of dialogue. We must be engaged in a discussion on the issues that really matter to people, animals and the planet we share…Better is not a binary choice. Better is Yes, And…" (93) Do you personally have feelings about this reality? What are they? What will you do about it?

- - - - - - - - - - - - - - - - - - - - - -
Here is Clif Hostetler's review of the book:
https://www.goodreads.com/review/show/2633930955
- - - - - - - - - - - - - - - - - - - - - - - - - - - - - - - - - - - - - - - - - - - -


February 13 –While the World Watched by Carolyn Maull McKinstry. A half century has passed since the Ku Klux Klan. Sonnenschein Sheila, Melanie Allmayer, AmenehPazerish plan to be there.

March 13 –Something Beautiful Happened: A Story of Survival and Courage in the Face of Evilby Yvette ManessisCorporon

April 10 –Some of My Best Friends Are Black by Tanner Colby

May 8 –Born A CrimebyTrevor Noah

June 12 – Religion for Atheists: A Non-Believer's Guide to the Uses of ReligionAlain de Botton

July 10 – Why Religion by Elaine Pagels

August 14 –The Glass Castle by Jeannette Walls
This is a remarkable memoir of resilience and redemption, ad a revelatory look into a family at once deeply dysfunctional and uniquely vibrant. The Walls children learned to take care of themselves. They fed, clothed, and protected one another, and eventually found their way to New York. Their parents followed them, choosing to be homeless even as their children prospered. The movie, with the same name, follows the book and can be viewed in preparation for the Conversation. Several individuals who have been homeless and who partner with homeless persons will share in the conversation.

September 11 – Books About Crazy Horse

October 9 – The Handmaid's Tale by Margaret Atwood

November 13 –In Pursuit of Peace: Community of Christ's Journey by Andrew Bolton and others

December 11 – The Worst Hard Time by Timothy Egan tells the story of those who survived the Great American Dust Bowl. Some of our parents could be a part of these stories. After reading the book, you can further prepare by interviewing some of your elders who either remember or have stories they were told about this period in the Great Plains between 1901- 1939. Timothy Egan is the same author who wrote The Big Burn which we discussed in Vital Conversations.

Selections are subject to change. If you would like to be reminded and have additional information, contact David Nelson at humanagenda@gmail.com or call (816) 453-3835

---
---

ABOUT CRES PARTICIPATION
Having spawned several other organizations,
including the Greater Kansas City Interfaith Council,
we continue to offer programs initiated by and through others
but we no longer create our own in order to focus on our unique work.
For interfaith and cultural calendars maintained by other groups, click here.


---