CRES founded 1982 _ On the web since.1997. Kmusicvested



We draw upon the world's secular and religious traditions, respecting the perspectives of both doubter and believer.
"Vern designed a ceremony
for us that welcomed
our child into our faith
but also blessed
our entire family
and our friends
as we shared our joy
and commitment."
Baptism, child blessing, naming, and other terms are used to celebrate the dedication of a child into divine care. Your own religious traditions are important in creating a ceremony that honors your child and gathers those close to you around you for the sacred occasion.

Pilgrim Chapel is an exceptionally beautiful site for your ceremony, and I am delighted to assist you in planning it and leading it.
Whether you want a traditional, multi-faith, civil, or unique rite, and whether you plan a small private or larger public ceremony, your desires are embraced as we arrange a joyous occasion for you, your family, and friends.

DURING THE THE MONTHS OF FLU AND COVID,
ADAPTATIONS ARE ADVISED FOR EVERYONE'S SAFETY.

---
---
1. Planning the ceremony
To help in planning and to prepare the certificate, these points may be useful:
1. What is the date and time for the ceremony?
2. What is the child's full name?
3. When and where (city, state) was the child born?
4. What are the full names of the parents?
5. Will siblings be present?
If so, what are their names and ages?
6. Who else may be present for the ceremony?
7. Will sponsors or godparents be selected?
What is their relationship to the child?
8. Would you like this to be a specifically
Christian baptism or use materials
from other traditions?
9. Do you have readings to be part of the ceremony?
Who will read them?
10. Do you plan to engage a photographer
or will one of your guests take pictures?
11. If you have specific ideas for the ceremony,
a ceremony from your own tradition,
including what you'd like the rite to be called,
please let me know, with any additional wishes
-- or if would like me to send you
a sample service, let me know.
12. Normally I provide a Certificate, a rosebud,
and a beeswax baptismal candle as mementos
of the ceremony. Click on the links to see a
sample Certificate and the program folder.

--------------------------------------
Please email answers
to these numbered questions above
or download the Planning PDF here
and mail or scan (or photograph) and email
to
vern@cres.org
Vern Barnet
Box 45414
Kansas City, MO 64171
We can also visit by phone, by Zoom, or in person.
2. Common parts of a Baptism, Naming, Blessing, or Child Dedication service
Welcome
Reading and/or Prayer
Words to Parents
Words to Sponsors
Words to Guests
Words to Entire Gathering
Baptism with water, rosebud, and candle
[Presentation of Family Medallion by sibling]
Closing Blessing
Signing and Presentation of the Certificate
Dr Vern Barnet, ordained in 1970, founded CRES in 1982 as a multi-faith resource for Kansas City, and in 1989 created the Greater Kansas City Interfaith Council. For eighteen years, his column, "Faiths and Beliefs," appeared each Wednesday in The Kansas City Star into his retirement.
The recipient of many awards for his civic and professional activities, and author of numerous articles, poems, and reviews, and several books, he has taught at area colleges and seminaries, and has studied and spoken throughout the United States and abroad.
Bio sketch and photos.
He prefers to be called simply "Vern" — though if you wish to include his name
on a printed program, please use this style:
The Reverend Vern Barnet, DMn.

4. Fees
Fees for the minister's services are included
with Pilgrim Chapel arrangements.

Email me, vern@cres.org
My desk and flipfone numbers
are also available for your convenience.
Pilgrim Chapel and I want planning
your ceremony to be convenient
and enjoyable, and your ceremony extraordinarily joyous and memorable.
Vern Barnet
---
#readings
Favorite Readings
a. from
CHRISTIAN SCRIPTURE
[Matthew 18:1-5]

At that time the disciples came to Jesus and asked, Who is the greatest in the kingdom of Heaven? He called a little child to him, and placed the child among them. And he said: "Truly I tell you, unless you change and become like little children, you will never enter the kingdom of Heaven. . . . . Whoever receives on such child in my name receives me."


b. adapted from KAHIL GIBRAN'S
THE PROPHET

Your children are not your children.
They are the sons and daughters of Life's longing for itself.
They come through you but not from you,
And though they are with you, yet they belong not to you.
You may give them your love but not your thoughts.
For they have their own thoughts.

You may house their bodies but not their souls,
For their souls dwell in the house of tomorrow, which you cannot visit, not even in your dreams.

You may strive to be like them, but seek not to make them like you.
For life goes not backward nor tarries with yesterday.
You are the bows from which your children as living arrows are sent forth.
The archer sees the mark upon the path of the infinite, and He bends you with His might that His arrows may go swift and far.
Let your bending in the archer's hand be for gladness;
For even as he loves the arrow that flies, so He loves also the bow that is stable.


c. adapted from
The Presentation
of the Family Medallion (R)
copyright 2004 Clergy Services, Inc.

In the Scriptures, a basis for family relationships is found in the Book of Ecclesiastes. "Two are stronger than one," it says, "and a cord of three strands is not easily broken."
--(Ecclesiastes. 4:9a, 12b)
In recognition of this family and the family nature of God's creation, we present to Marin this Family Medallion. With its three merged circles, the Family Medallion represents a strong cord of three strands. It is a symbol for love that is greater than a relationship of two people, a love that reaches out to include others. In the giving of this symbol, we pledge to you our continuing love and support.
---

---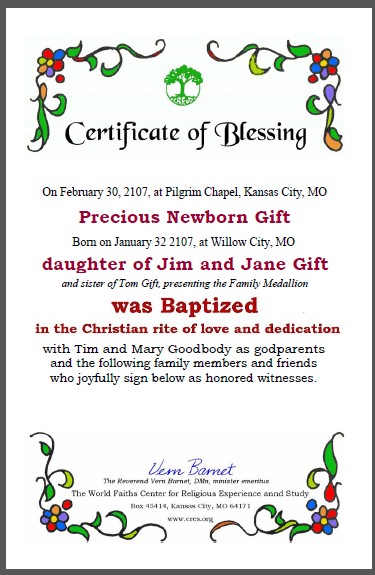 9. Planning the ceremony
Often planning a baptism* can be completed by email, phone, or Zoom using the planning sheet.

*Also called "naming" or "dedication"



---





---




---


#setupChristian
Altar-table Setup for Christian Baptism:
---

Greetings, --

And congratulations on your plan to have __ baptized at Pilgrim Chapel _____! I would be delighted to perform this beautiful and meaningful rite.

I'd want to be sure that the ceremony is what you want it to be. Here is some information:
http://www.cres.org/work/baptism.htm

If you'd like to meet beforehand, we can arrange that, or if you simply want to complete the information on the planning sheet and send that to me, we can make arrangements by email and/or by phone. But I would certainly be happy to meet with you if you would like.

With joy in parenthood,
Vern



Dear __,

I thought I would write again as ___s baptism approaches. I do have another obligation that day, so I would really appreciate knowing the time when you would like the baptism to be scheduled. I'd like to renew my invitation to meet with you in advance if you'd like, or if you'd like just to send me the information for the baptismal certificate, that would be fine, as well.

With best wishes,
Vern
--------------------
Dear --

Pilgrim Chapel has contacted me with your wish for ___ to be baptized ____. I would be delighted to provide the ceremony.

Here is some information about baptism: http://www.cres.org/work/baptism.htm .

We could meet for coffee to plan the ceremony [ http://www.cres.org/pubs/map_westport.htm#WestportCoffeeHouse ]. Or if you wish simply to return the information at http://www.cres.org/work/BaptismPlanning.pdf so I can complete the Baptismal Certificate, we can do the planning by phone and email.

Most of the baptisms I do are Christian ceremonies, but I am also able to customize civil rites and ceremonies using other traditions. I want to be sure that what we do for Violet is what you want. In addition to the Certificate, I ordinarily provide the child with a rosebud, and the Chapel provides a traditional beeswax baptismal candle.

I do not know the time. So I can get that in on my calendar now, as soon as possible, please let me know the best time for you.

For now, the Baptism information I have is this:
Baptism Date:
Child: DOB: 9/5/18
Father:
Mother:

Cordially,

Vern Barnet==========