revised 06.07.30 -- Please reload/refresh....On the web since.1997.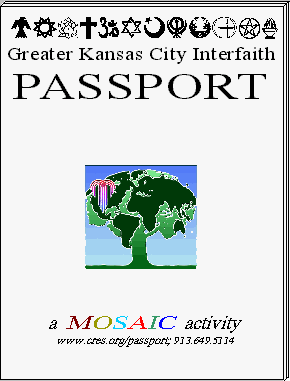 MOSAIC
originating 2001 Oct 27
at Kansas City's first interfaith conference
expressing the hope for interfaith relations --
not a "melting pot,"
but a mosaicof faiths, each with its own integrity,
each a beautiful part of the larger picture of religious life
here in metro Kansas City.


For current activities see the Hindu and the Cowboy, contact Kansas CIty Harmony or view the CRES calendar.
For the Interfaith Book Clubs, contact the Kansas City Interfaith Council or view the CRES calendar.
Also see the announcement below about the Club forming north of the river.
For information about our Passport, click below.
Interfaith Passport Guide in Adobe Acrobat .pdf Format

---

Kansas City Interfaith Discussion Group North
"I can see clearly the time coming when people belonging to different faiths will have the same regard for others faiths that they have for their own." -- Mahatma Gandhi
Vision: "The Kansas City Community is the most welcoming community in the world for all people."
Place: Mid-Continent Library, Antioch Branch, 6060 N. Chestnut, Gladstone, MO 64119-1845; Phone 816-454-1306
Time: Second Wednesday each month beginning October 12, 2005 Wednesday 7 – 9 p.m.
Please join us for conversations focused on books, movies, culture, and spirituality. We are interested in attracting people from a variety of religious and spiritual perspectives in order to celebrate the gifts of pluralistic perspectives. Four times each year we will discuss the same book that is being discussed at the Kansas City Interfaith Book Club South. The other months, members of the group will select books, movies, TV shows, or other cultural events that open up opportunities to share personal and spiritual stories and insight.
David Nelson, an appreciative inquiry coach, will convene this group. He will facilitate in a fashion that will encourage all to participate and will respect the diversity within the members of the group.
There is no charge to attend, however, members will have the opportunity to bring treats to share on a rotating basis.
For further information please contact:
David Nelson, (816) 453-3835, david@humanagenda.com; www.humanagenda.com
"The mirrors of faith transmit and reflect the holy from many angles. Bringing and focusing them together, a powerful, curative light can shine to heal the crisis of secularism." --Vern Barnet
---
ARCHIVE MATERIAL
Photos and Credits in PDF file from The Hindu and the Cowboy and Other Kansas City Stories from Many Paths
" Hindus, cowboys and Kansas City"
Play tells stories about tolerance and prejudice, gathered from people here
By ROBERT TRUSSELL
FROM THE KANSAS CITY STAR
Wed, Apr. 14, 2004
"One thing I found really moving about the script and the stories were the amazing things individuals who might sit at the desk next to us have gone through because of their faith or ethnicity, just to be in Kansas City. I don't think people in general appreciate that."
— Diane Hershberger, executive director of Kansas City Harmony
A lot of us think we know all about diversity, the evils of prejudice and the virtues of tolerance.
But we may not know as much as we think.
That, at least, is the view of Diane Hershberger, executive director of Kansas City Harmony, a nonprofit organization devoted to building bridges. And that basic idea underpins a play, "The Hindu and the Cowboy … and Other Kansas City Stories," which will be performed today at Harmony's annual luncheon at Marriott Muehlebach Tower.
The script, written by Donna W. Ziegenhorn of the Mosaic Life Stories Project, is based on actual life stories gathered from Kansas City area residents by a team of volunteer interviewers. The play, which has had private readings at the Coterie Theatre and the Bruce R. Watkins Cultural Center, relates diverse life experiences selected from about 80 that were collected for the project. The interview subjects followed a variety of faiths, including Christianity, Judaism, Islam, Hinduism and Native American religions.
"There's lots of movement," Hershberger said. "A person's story doesn't begin and end at the same time they are on the stage. Stories weave in and out. At the beginning there's a lot of discussion about the lines that divide us in this city … and then the individual stories begin to be told."
The actors for today's performance are a mix of professional and community-theater actors, students and local activists. Among them are George Forbes, a veteran of productions at the Coterie and Theatre for Young America; Diane Bulan, an acting teacher who has appeared in professional and community productions; singer Royal Scanlon; and KCUR-FM announcer Linda Sher.
The play's documentary approach connects it to an increasingly important style of theater that in recent years has yielded such fact-based dramas as "The Laramie Project," which explored the aftermath of a gay university student's murder in Wyoming, and "The Exonerated," which tells the stories of men and women who were sentenced to death but freed after new trials, DNA tests or other circumstances.
Hershberger thinks "The Hindu and the Cowboy," like those shows, serves a basic need.
"Those of us who feel we're in the majority don't always see things that divide us," she said. "I can think of a specific story when I was in a different workplace. It never occurred to me that a man I worked with was Hindu until years later when I saw him at an interfaith event. It was a part of him I didn't recognize. I probably said 'Merry Christmas' to him.
"One thing I found really moving about the script and the stories were the amazing things individuals who might sit at the desk next to us have gone through because of their faith or ethnicity, just to be in Kansas City. I don't think people in general appreciate that. One of the stories is about a monk who was hung upside down above a fire to be tortured. Now this is a person you might see at Wal-Mart, and you would never know."
Hershberger, aware of how dull corporate luncheons can be, said Harmony always tries to do something different at its annual get-together.
"Last year we had a one-woman performance," she said. "We try to bring the mission of the organization to people through very nontraditional luncheon ways. This play is in that line. People do remember when they come to the Harmony luncheon."
In other words, even a sympathetic audience might learn something from "The Hindu and the Cowboy."
"Many of us think we understand and appreciate diversity, but most of us don't understand the full breadth of it and many of us don't understand our own prejudices and biases," she said. "When we're faced with something totally different — sexual orientation, for example, which does come up in the play — sometimes we're not so comfortable with that aspect of diversity."
The play's creation was an outgrowth of the "Gifts of Pluralism" conference in 2001 given by CRES, a nonprofit group whose name stands for Center for Religious Experience and Study. The project was sponsored by CRES and Harmony.
Today's performance is directed by Ernest Williams and produced by Frank Higgins, a Kansas City playwright who helped condense the play to a shorter format for the purposes of the luncheon.
At the moment, Hershberger said, a group of volunteers has embarked on a similar effort. Stories are being collected from Kansas Citians related to the school desegregation case. She said that effort was in an early stage.
Tickets to today's luncheon, scheduled from 11:30 a.m. to 1 p.m. (following an 11 a.m. reception), are available for $50. Go to www.kcharmony.org or call (816) 231-1077.
To reach Robert Trussell, theater critic, call (816) 234-4765 or send e-mail to rtrussell@kcstar.com.
---
"New play celebrates diversity"
by STEVE PENN
FROM THE KANSAS CITY STAR Tue, Apr. 06, 2004
COMMENTARY
A college student from Kansas City explains what it was like being a Muslim living in New York just after 9-11.
A former Tibetan Buddhist monk who now lives in Kansas City once sought freedom by fleeing to the Himalayas.
The stories behind these ordinary yet extraordinary people are sometimes awe-inspiring — and are reflective of the religious diversity found in Kansas City .
Increasing respect for religious differences is the goal behind a powerful new play titled "The Hindu and the Cowboy … and Other Kansas City Stories."
The two-act drama will open April 15 at the Kansas City Harmony luncheon at Muehlebach Tower of the Kansas City Marriott Downtown. Tickets are $50.
Donna Ziegenhorn designed the project and wrote "The Hindu and the Cowboy."
"This idea has been growing in my mind for a number of years," Ziegenhorn said. "It really comes out of my belief in the power of the lived experience. It's the power of story in dramatic form."
The project is the inspiration of the Mosiac Life Stories Task Force, a volunteer effort started in 2002 to promote interfaith diversity.
To create her work, Ziegenhorn relied on seven researchers who collected and transcribed 80 interviews based primarily on one-on-one interviews with people throughout the area.
Individuals interviewed were American Indian, Baha'i, Christian, Hindu, Muslim, Jewish, Pagan, Sikh, Dharma, Sufi, Unitarian, Universalist, Zoroastrian and Jain.
The title of the play derives from one of its stories. When the Hindus were building their temple in the 1980s in Shawnee, the temple's president and his wife went to the site and saw what appeared to be a cowboy with a gun sitting on a horse. Researchers interviewed the cowboy, who explained that he was born in Shawnee and was dedicated to protecting the land around the temple.
"The cowboy is looking out, making sure nobody takes advantage of the Hindus or bring harm to the temple," Ziegenhorn said. "The Hindus are wondering, 'Who is this guy?' "
By the end of the play, the audience understands the importance of their connection.
Another story in the play deals with the experiences of Ahmed, a Muslim raised in Kansas City. Ahmed was attending Columbia University in New York just after the Sept. 11, 2001, attacks when he learned what it was like to be harassed and stereotyped.
One day, Ahmed was sitting at a restaurant when several firefighters walked in.
"They stand there in the doorway looking at me real closely, checking me out," Ahmed says in the play. "Then they approached our table. And one of them says, 'I want to see your head under the pavement.'
"Now people are afraid of me. They're keeping their eyes on Ahmed, every minute."
Another story centers on a Holocaust survivor who lives in Kansas City.
"When I was 14, everything changed," the woman says. "The SS came to Poland with their motorcycles and tanks. They came to my house. … They took my 18-year-old sister. She's delicate and fragile. … Me, I'm strong and healthy. … I went to the camp in her place."
Some people look down on cultures and religions they don't understand. Fortunately, Kansas City Harmony and a few other organizations are dedicated to eradicating that ignorance.
This extraordinary new play could become an effective tool in that quest.
To reach Steve Penn, call (816) 234-4417 or send e-mail to spenn@kcstar.com.
---
"Council achieves much"
by VERN BARNET
FROM THE KANSAS CITY STAR Wed, Sept. 17
FAITHS AND BELIEFS column
For the past three years, the Kansas City Interfaith Council has gathered on Sept. 11.
In 2001, media were invited to hear members of the council announce ``The Gifts of Pluralism'' conference planned for that October. As events unfolded on the TV monitor in the room, Council members expressed deep commitment to one another and to the city to foster interfaith understanding, and the Muslims pointedly condemned the hijacking of their faith.
The conference was held as planned. Over 250 people from every faith group from A to Z -- American Indian to Zoroastrian -- participated in the two-day assembly at Pembroke Hill School. Many relationships were developed that have strengthened the community, and new programs have emerged.
One of them is Mosaic, which includes an interfaith book club, a ``Passport'' program for visiting houses of worship of various faiths, and a ``stories project.''
This project involved interviewing over 60 people, from a now-elderly Jewish survivor of a Nazi concentration camp to a young Muslim. The interviews have been fashioned into a play, tentatively called The Hindu and the Cowboy and Other Kansas City Stories, with a staged reading Nov. 2 at the Bruce Watkins Center. Understanding one another's lives in the context of our faiths is a way to liberate ourselves from the fear the terrorists wished to instill within us.
In 2002, the Council observed the first anniversary with a day-long schedule to place 9/11 in a spiritual context. Members of the Council brought waters from their individual faith communities, from water collected from KC area fountains, and from the rivers and oceans of the world, to honor both the tears flowing from the tragedy and the refreshment and cleansing power of our faiths. Network CBS-TV broadcast these and other local efforts as model interfaith approaches for the rest of the nation.
In 2003, last Thursday, the Council members met and exchanged stories about how these two years affected them and their communities. The reports were filled with emotion. The assessments were mixed. Pride in the area's residents' reaching out to one another and learning about others' faiths was offset by the corrosive impact of economic priorities and international concerns.
Despite misunderstandings, Muslim leaders have been especially vigorous in reaching out to Jewish, Christian and other religious communities. Their strong allegiance to American democracy and ability to correct misrepresentations of their faith show us that we are all together as we seek a world of mutual respect and promise.
We still have more work to do. We must live our faith more deeply.
---
MOSAIC STORY PROJECT
Project Overview
July 24, 2002
The Power of Stories
Experiences, images and feelings conveyed through personally lived stories are powerful, often having a greater capacity to change awareness, empathy and perspective more than the recorded statistic, intellectual analysis or theological debate. Stories tell who we are, what's important to us, how we survive, how we uncover meaning. Stories can bring us laughter and tears, surprise and insight. They can honor and heal. They can open pathways that connect people whose religious and cultural worlds are very different.
For Americans, the world is a changed place since September 11, 2001. Since that day, our interior landscapes shake to new wakefulness of global realities. At no other time in our history have we as a people been more alert to the urgent need to build bridges between faith communities. In response to this need, the Mosaic Story Project is initiated.

What is the Mosaic Story Project?
The MOSAIC STORY PROJECT is designed to collect and dramatize stories from real life experiences of Kansas Citians. The rich range and diversity of the many world faiths practiced in our metropolitan area will be reflected in the stories collected.
The major anticipated outcomes of the Story Project include:
• Expanded appreciation and personal connection with variety of faith backgrounds experienced through the dramatization of personal stories . . .
• Deepened relationships between individuals of different faith traditions by working together to achieve the project . . .
• Rich compendium of stories gathered which can serve as as a resource for community.
The Story Project aims to gather stories from each of the thirteen major faith families in the Kansas City Metropolitan area: American Indian, Baha'i, Buddhism, Christianity (Protestant), Christianity (Roman Catholic), Hinduism, Islam, Judaism, Sikh Dharma, Sufism, Unitarian Universalism, Wicca and Zoroastrianism.

What are the 'products' of the project?
The nine-month plan calls for publicly presented dramatic program in the spring of 2003. The script will be created from the stories collected. Individuals drawn from many faith communities will perform in the program. Music may also be included.
In addition, a book including the stories collected may be published.
How will the project work?
The public is invited to take part in the project which will be planned and coordinated through Mosaic, a group of local citizens committed to furthering inter-faith awareness and education, associated with the Kansas City Inter-faith Council and CRES.
The project will incorporate local volunteer engagement with professional expertise (such as script writing, editing and direction).
Individuals of all ages and representative of our city's diversity will be engaged in the process. Following the initial project planning, the process calls for: • Story Gathering
1. Local volunteers trained in the art of interviewing for life stories
2. Story gatherers record interviews
3. Stories transcribed
• Performance Preparation
1. Script written
2. Site(s) and schedule determined
3. Publicity planned
• Performance Implementation
1. Casting completed
2. Technical aspects planned
3. Rehearsals held
Following the spring performance, an evaluation will be conducted and opportunities for further expansion of the Story Project will be assessed.
Who is sponsoring the project?
The project is planned and coordinated through Mosaic, a group of local citizens committed to furthering inter-faith awareness and education, associated with the Kansas City Inter-faith Council and CRES, a not for profit (501-C-3) organization. Funding for the project will be sought from local sources. Collaboration with a professional theater organization will be explored as well.
What are ways to be involved?
Volunteers are needed is several areas, including:
• Interviewing area residents (attendance at a training session will be required)
• Transcribing stories
• Indexing stories
• Publicity
• Fund raising
• Acting
• Technical production assistance
• Musicians (instrumental and vocal)
• Coordinating committee
More information? Contact staff@CRES.org
---

Interfaith Book Club
A R C H I V E M A T E R I AL
The Book Club is now sponsored by the Interfaith Council.
A book club which provides a forum for discussion on a variety of interfaith reading selections.
CRES, Kansas City's interfaith network including the Kansas City Interfaith Council and Mosaic (the continuing action group of the 2001 Interfaith Conference) are initiating an interfaith book club. Its purpose is to promote understanding and appreciation among people of varying faith groups, to increase awareness of the many paths through which spiritual needs are met and faith is expressed, and to encourage discussion of ideas from various faith traditions.
One book will be discussed quarterly. Selections will draw from fiction and non-fiction, will be engaging, and will inspire conversation on such subjects as: interfaith cooperation; information about specific faith traditions; lives of spiritual thinkers from various faith traditions; and spiritual qualities of love, forgiveness, and compassion from differing faith perspectives. Participants will be invited to help with book selection, after the first session.
Current Book Club meeting for 2004
The CRES Interfaith Book Club met on August 9 at the Christian Science Center. The book selection was God Speaks Again: An Introduction to the Baha'i Faith, by Kenneth Bowers. Baha'i friends were on hand to provide information, share experiences and further explain Bahaulah's inspired and hopeful vision for world peace and unity and for individual spiritual progress. Many thanks to them for enriching our evening.
The next meeting of the book club will be November 8, from 7 to 8:30 at the Christian Science Center on the south side of the Red Bridge Shopping Center, which is on the southwest corner of 111th (Red Bridge Road) and Holmes. The selection will be Science and Health with Key to the Scriptures, by Mary Baker Eddy. This is a book on principles of spiritual healing, written in 1875, that has sold over ten million copies and remains a non-denominational best seller and a reference book for many of today's authors on the subject. We will focus on the following chapters: Preface; Prayer; Atonement; Science, Theology and Medicine; Christian Science Practice; Recapitulation; the platform, 330-340; and Fruitage. The ISBN number is 0-87952-098-1.
The CRES Interfaith Book Club will meet on Monday, August 9, at 7pm at the Christian Science Center, Red Bridge Shopping Center
(South side), Red Bridge Road (111th) and Holmes. The book to be discussed is God Speaks Again: An Introduction to the Baha'i
Faith, by Kenneth Bowers. Public welcomed. 913.268.8212

Suggested Discussion Questions for God Speaks Again: An Introduction to the Bahá'í Faith by Kenneth Bowers
1. What would you consider to be the main contributions of the Bahá'í faith to world thought?
2. Do you believe that the implementation of these ideas is desirable or possible in the world today? If so, why and how?
3. Do you agree with the idea that divine messengers continue to be sent by God to speak to the present need? How would this belief, if widely accepted, change the world?
4. Are there concepts in the Bahá'í teaching that do not align with your present beliefs?
5. Did anything surprise you or did you have any revelations as you read this book?
6. What will you take from this book, or how has it changed you?
---

The fourth book selection is What the Buddha Taught, by Walpola Rahula, paperback, Grove Press, $13.00, ISBN 0802130313. The informal discussion sessions for this book will be held on Monday, August 18, in the large conference room of the Waldo Branch Kansas City, Missouri, Public Library, 201 E. 75th, from 6:30 to 8:30 p.m. All are welcome to come whether or not they have read the book.

Discussion Questions for What the Buddha Taught
August 18, 2003

1. What teachings of the Buddha did you find most helpful? Any that you are implementing?

2. Were there concepts you would find difficult to accept for yourself, or omissions you would require as a part of your faith path?

3. What would you say is the widespread appeal of Buddhism in today's world?

4. What universal themes (found in major faiths) did you see in these writings? What distinguishing characteristics?


For more information, contact Pam Peck, 913.268.8212, pcpeck99@hotmail.com.
---
Interfaith Passport Program
for extensive information, please click on this link.

---

The Kansas City Star
Sep. 11, 2002
Religions unite to grieve, to find understanding

After Sept. 11, Americans flocked to houses of worship; prayed and sought solace in words of scripture. But within months, religious practices had returned to pre-attack levels.

In Kansas City, however, there was one exception -- interfaith activity.

The catalyst was ignorance about the religion of the group accused of the attacks.

"When news reports identified the terrorists as Muslim, Kansas Citians with Muslim friends knew they (the friends) were in danger and began to seek ways to respond to prejudice, including arranging programs for the public to learn about Islam," said Vern Barnet, interfaith leader and expert in world religions.

The first programs soon after the attacks brought together government leaders and representatives of many faiths to express a common grief.

The Jackson County Diversity Task Force, appointed by County Executive Katheryn Shields, began investigating the state of tolerance following Sept. 11.

"Now more than ever we must come together to respect our diversity," Shields said.

Coincidence played a part in the interfaith cooperation. Kansas City's first areawide interfaith conference had been planned for October.

It just happened that a press conference announcing the event, called "The Gifts of Pluralism," had been planned for Sept. 11. The press conference went on as scheduled, with footage of the attacks replayed on a television set behind the speakers.

About 250 people showed up, including government and civic leaders not originally expected.

"Coming so closely on the heels of 9-11, the interfaith conference was very well attended," said Donna Ziegenhorn, a writer and graduate student who has been involved in interfaith activities.

"Since 9-11, there's a real sense of urgency. The future of the world depends on how well we can know each other from different cultural and religious backgrounds. It's no longer just a nice idea but an imperative for the future."

The Islamic Center of Greater Kansas City reports a marked increase in visitors. The usual two groups per month has doubled since Sept. 11, and more individuals have come. About 300 people attended an open house in January, and another one is planned for Sept. 14.

"A lot of people are genuinely trying to learn more about Islam," said Bhaa Elashkar, office manager at the center. "I feel that since 9-11 more people are trying to understand the religion and reach out in support."

Interfaith activity shows no signs of waning. Among the spinoff programs from the interfaith conference is the Passport Program and the Mosaic Stories Project.

The Passport Program encourages people to take advantage of the many opportunities to learn about faiths practiced in Kansas City. Participants holding an Interfaith Passport receive visa stamps when they attend activities related to the different faiths.

The Mosaic Stories Project, led by Ziegenhorn, collects personal stories from people of various faith backgrounds. The stories eventually will be woven into a dramatic production that reflects the cultural enrichment of the community.

"Nothing bonds people more deeply than sharing their life experiences," Ziegenhorn said. "So I hope that we would come to have deepened relationships among people of different backgrounds."

To reach Helen T. Gray, religion editor, call (816) 234-4446 or send e-mail to hgray@kcstar.com.

For information-- To obtain an Interfaith Passport and for more on the Mosaic project and other interfaith activities, go to www.cres.org.
---
October 19 Meeting Notes
1. Mosaic Book Club
Thanks to Pam Peck for her leadership in setting up this first session. It's scheduled for Monday, Nov. 18 at Waldo Branch of the library. The book is "Why Does Religion Matter?" by Houston Smith. See CRES Many Paths for specifics.
Ideas for more publicity -- including getting information to those who attended discussion on "Battle for God" and Star calendar listing -- were noted for Pam.
2. Mosaic Life Stories Project
Ten people are now trained as "story gatherers," and interviews have begun. Please send your suggestions for individuals to interview to me by e-mail. We have a list of about 40 names now and a goal of 60 to 80 interviews by December 15.
Group interviews are also being scheduled and/or organized. Jane Heide is hosting a pizza party with youth. The Conversations with God group is hosting a story circle on Nov. 13. A Seventh grade class in the Blue Valley district is offered an extra credit opportunity by writing a story for the project (thanks to teacher Beth Rieke). Individual interviews have been collected so far from Zoroastrian, Wiccan and Christian (protestant and Roman Catholic) individuals.
There is a concern about getting taped interviews transcribed. We're learning how much time it takes to do an hour interview. You don't want to know! Fred and Donna are going to explore possibilties for funding help.
3. Passport Program
This seems to be up and running thanks to Vern. Fred continues as the communications contact for Mosaic with Vern on the project.
4. Future Mosaic Meetings
We discussed and decided the following relative to Mosaic meetings over the next three months. In November and December, we will do focused work on top priority projects: Life Stories and Book Club as needed. Our January meeting will be an opportunity for planning. At that point, we may wish to pick up another project from the numerous list generated during the first meetings.
5. Upcoming Meetings
Saturday, Nov. 16: 8:30 - 10:30 a.m.
Location: Donna's house, 6636 Wyoming, KCMO
Saturday, Dec. 14: 8:30 - 10:30 a.m.
Location: as above
January: TBD
Regards.
Donna

---