#Amahl
contributed to KC ARTS BEAT
With Paul Mesner puppets,
The Lyric Opera of Kansas City
offers a streaming production of
"Amahl and the Night Visitors"

2021 January 5

I vividly remember Christmas Eve, at age 9, at a friend's house, seeing the "Amahl and the Night Visitors." When school resumed after Christmas recess, I told my 4th grade music teacher about it and that I wished the story were true. She said it was in the Bible. I never could find it, but all these years later, as many times as I've seen the opera (and chuckled over the licorice in the third drawer), its story of the mystery of flawed human and unbounded divine love continues to inspire and comfort seven decades later.
"Amahl," the first opera commissioned for TV, may not have been the beginning of my love of opera, but it is the earliest opera I clearly remember. It is short (one act), clever, comic, solemn, touching, simple, with music and a libretto so perfectly matching the magic of the season than even atheist and Christian friends who say they have no use for opera reported after I urged them to see "Amahl" that they were touched. Both my Christian and atheist friends told me they were moved to tears.
The story is of Amahl, a "crippled" boy with a rich imagination, and his mother in poverty living in the Holy Land. He was a shepherd until his mother had to sell the sheep. One night three kings, following a star, stop by their shack to rest, and Amahl and his mother learn about the birth of a spiritual king.
The kings are not haughty, even though one lives in a "marble palace with black panthers and white doves." They, seekers of a holy child, are grateful for the hospitality which expands with gifts from shepherds whom Amahl alerts and who entertain the kings with their dances. Kaspar is a bit deaf and travels with a box, one drawer of which contains magic stones. In one of the opera's most poignant moments, Amahl remembers the box and asks the king, "Among your magic stones, is there . . . is there one that could cure a crippled boy?" Kasper responds, "Eh?" and Amahl, discouraged, wishes him "good night."
As the kings rest, the mother tries to steal gold from the kings, but the kings explain that the child they seek will rule without earthy riches. Repentant, the mother returns the gold and says she wishes she could send a gift of her own to the child they describe. Amahl, too, is inspired and offers the only thing he has, his crutch, which he himself made. As he offers the crutch, he discovers he can walk without it, and all rejoice at his healing. Amahl wants to go with the kings to take his thanks and his gift to the child, and the kings and even the widow agree.
The opera was composed by Gian Carlo Menotti, twice winner of the Pulitzer Prize for Music. He also wrote the English libretto. Surely one of the reasons my opera-aversive friends found this opera so easy to listen to is Menotti's complete mastery of parlando, a vocal line shaped by the pacing and accents of ordinary speech. (I use parlando instead of recitative to emphasize the appearance that Menotti's music grows out of the poetry instead of, in the case of inartful recitative, being pitches on which words are hung.)
"Amahl" is actually a good choice for someone wishing to learn about opera because it includes traditional forms such as arias (solo songs), duets, trios, a quartet, a chorus, and even dancing. And like all good opera, it is worth seeing repeatedly, in various productions. So, with one reservation, I happily recommend the Lyric Opera's video streaming production with Paul Mesner Puppets as an introduction to opera as well for as the blessing of the opera itself. This is 50 minutes you do not want to miss.
In fact, the "Amahl" package comes with an engagement guide and materials for educators. In this time when education is about getting a job instead of emotional intelligence, instead of being a citizen with a life full of relationships and meaning, the arts are more important than ever. Opera is a complex art form, and this Lyric Opera offering adds newer communication arts to vocal and instrumental music, poetry, dance, staging, costuming, scenery, and other vehicles of expression. In this case, we have puppets as actors. Yes, opera is refined music, but in an unexpected way, this production shows it is much more.
My reservation about the production is that viewers are repeatedly distracted from the story and the magic of the puppets by shots of the musicians and the chamber in which the puppet stage is housed. I think this would be especially confusing to younger children. I will not accept as defense citation of Igmar Bergman's 1975 film of Mozart's "The Magic Flute" or the Metropolitan Opera's cinema broadcasts of interviews of performers and others involved with production in between acts. The Lyric's interruptions do not in any way supplement the opera, but rather remove us from its progress. The problem occurs from the beginning. When Amahl is gesturing to his mother about how long the star's tail is, we are cut from the puppet's gesture to the singer's off stage. The intrusions mar the integrity of an otherwise meritorious offering to what should be a large audience.
I also remain a bit perplexed at the revision of Amahl's telling his mother that "the kings are three, and one of them is black." "Black Lives Matter" remains a major news story, but "black" was erased and substituted with "one of them looks like me." Menotti emphasized that his opera was inspired by the painting, "Adoration of the Magi," by Hieronymus Bosch, and one of the kings is emphatically black. As sung in this performance, there was no surprise; the line was almost dropped vocally, as if in embarrassment.
Menotti specified that Amahl should be sung by a boy. He did not write what, in opera-speak, is called a "trouser role," that is a high male part sung by a woman. I cannot say that had I only heard the streaming production that I would have been sure Menotti's instructions were violated. Holly Ladage, in fact, did often sound like maybe a boy, and I guess this should be regarded as success. But somehow I think a boy would have known to exclaim "Outside the door . . . there is . . . a king with a crown!" instead of merely stating a fact.
While I was delighted with the clarity of the chamber orchestra, I really, really missed the unique sound of the oboe in Menotti's original score. Almost instantly, the opening strains on Keith Stanfield's violin and other instrumentalists transported me another time and place under the stars. Maybe the tempo of Amahl's "Don't cry, mother dear" was a little slow, but otherwise Piotr Wisniewski's conducting was crisp, with wonderful little sonic surprises in percussion and electronic keyboard.
Kelly Morel as Amahl's mother was especially effective as she contemplating stealing the gold. She helped us feel desperation as she asked if rich people could know "how a child could be fed."
Daniel Belcher was superb as King Melchior, whose enunciation, even though the video is captioned, underlines the truth in Menotti's poetry, as here, when the mother has been discovered stealing:
Oh, good woman, you may keep the gold.
The child we seek doesn't need our gold.
On love, on love alone
he will build his kingdom.
His pierced hand will hold no scepter.
His haloed head will wear no crown.
His might will not be built on your toil.
Swifter than lightning,
he will soon walk among us.
He will bring us new life,
and receive our death,
and the keys to his city belong to the poor.
Most operas seem to have some problems with story continuity, and so does "Amahl" if you look too closely. Further, now that our culture better understands the evil of corporal punishment, we have to overlook the question of the threats Amahl receives from his mother. Still, the religious and economic testimony in the passage just cited over balance the threats as an understandable ignorance of the past.
We expect miracles from Paul Mesner puppets, and we got them in the execution of everything from Amahl's removing his cap to the display of King Kaspar's travel box to the mother's theft of the gold. (I do wish the bandage on Kaspar's finger had been more visible when he answered Amahl's question whether the parrot could bite.)
But the part that made the child in me thrill was when Amahl's leg was healed before our eyes. I think this was one time, at least, when the puppeteering outdid a live performance.
My first viewing of "Amahl" in 1951 was the first Hallmark Hall of Fame presentation. (It was broadcast annually on NBC until 1966). It cost me and millions viewing it nothing. I wish philanthropy somehow had made this new production of this uplifting opera brilliantly presented available without charge to everyone far and wide, but the $40 ticket price may help keep the Lyric afloat. Beyond your own purchase, if you can, consider buying tickets for friends as a small act of philanthropy, and valorize them with your gift.
A quarter century after I first saw "Amahl," I was a pastor in Pennsylvania, considering career moves. I finally accepted an invitation from Kansas City over other options, in part because I thought a city that offered the world such a profound and beautiful program in "Amahl"might be a good place to live.
I've seen "Amahl" many times, including a live performance with the son of a friend singing Amahl so convincingly just before his voice changed that I thought opera might be his career. But until now, I've never seen it done with puppets. I made the right choice to move to Kansas City, and the adaptability and resourcefulness of the Lyric and the ever-amazing Paul Mesner puppets are fresh justification for my choice of this city, with arts here overflowing with such works of humanity so marvelous that we can glimpse divinity. The management, the creative team for this production, and all involved have given us a touch of love in the midst of the darkness of the pandemic. Perhaps the longings that the kings and Amahl and his mother feel come to us as a hint of healing and a taste of salvation we especially need now.
The Lyric's "Amahl and the Night Visitors" streams through January 31; $40; kcopera.org.

—VERN BARNET

- - - - - YouTube links - - - - -

https://www.youtube.com/watch?v=qR1DiI9zNiA(KC Lyric Opera clip)
Complete opera:
https://www.youtube.com/watch?v=3_-fh8ZOzSo
https://www.youtube.com/watch?v=u2-W1jwu4M0
https://www.youtube.com/watch?v=Cm1Apj92hu0
https://www.youtube.com/watch?v=WS5rULCtZ_U
https://www.youtube.com/watch?v=1tqT2_0c0AM&t=162s
https://www.youtube.com/watch?v=gPAjNu4WW0I&t=1012s
https://www.youtube.com/watch?v=xlg81twKXbY&t=1049s (1951 telecast)
---

#MTT
This review quoted by the San Francisco Symphony —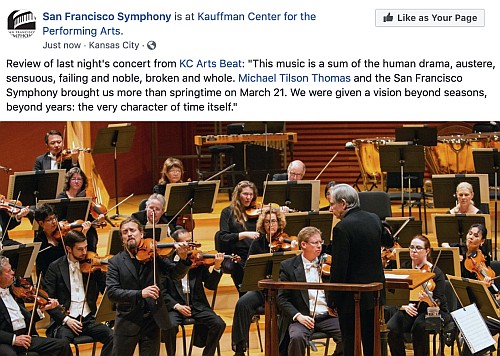 contributed to KC ARTS BEAT
Color Everywhere:
Harriman Jewell Presents Michael Tilson Thomas
and the San Francisco Symphony
On May 23, 1996, as soon as my son and I landed in San Francisco to celebrate his sixteenth birthday, we went to Davies Symphony Hall to get tickets for that night's performance of Stravinsky and Tchaikovsky. We wanted to hear the new music director, Michael Tilson Thomas, who was completing his first season there. MTT (as he is known) has since become the longest-tenured music director at any major American orchestra, and last night he and the SF Symphony made one last stop in Kansas City before he retires next year for other projects. So it was an extraordinary treat for me to get to hear him both coming and going.
The Harriman Jewell program at Helzberg Hall, the Kauffman Center for the Performing Arts, attracted a full house for the visiting artists.
Both works on the first half of the program, the Ravel and the Mozart, concluded, after all of us having a very good time, with a happy, almost casual hand-shake that contrasted with the cloud-bursting majesty of the final work by Sibelius.
Perhaps best known for his later Bolero tour de force, Maurice Ravel explored the styles and forms of the French baroque, epitomized by François Couperin, in a six movement suite for solo piano. The title Le Tombeau de Couperin ("The Tomb of Couperin") was a conventional way of honoring a musical heritage, with movements memorializing WWI dead. Later Ravel orchestrated — one might say "colored" — the four movements we heard Thursday night. (Ravel's most famous orchestration of a work for piano is surely Mussorgsky's Pictures at an Exhibition.)
MTT infused the liquid Prélude with shimmer and shine. The Forlane was a dance so jaunty you wanted to join in. Despite the title of the Minuet, it invited meditation or daydreams. The Rigaudon was a public party in a city square.
The second work of the evening was the most popular of the five Mozart violin concerti, No. 3 in G Major, performed with Christian Tetzlaff. I thought there were rough spots in the bowing of the Allegro, and I was disappointed in the unexpansive cadenza (just over one minute). In the Adagio Mozart replaces the oboes with the hues of the flutes, and with that backing Tetzlaff gave us one of the sweetest of the all composer's melodies, tenderly offered. But again, the cadenza, this time under 50 seconds, was too short for me, and as undistinguished as the first. The last movement was a rondo marked Allegro, with Tetzlaff's good energy and humor.
The audience assessed Tetzlaff's performance more enthusiastically than I did and demanded an encore. He obliged with a Bach movement.
After the intermission, on his way to the podium, MTT stopped to check the music on the concertmaster's stand as if to be sure what the third and final work on the program was. Which was wise since there was no score ready from which MTT could conduct. Which was just fine because MTT had the Sibelius Symphony No. 2 in D major memorized. Which, as the performance soon proved, MTT owns.
Although the Sibelius has been a life-long favorite of mine, its opening motif has remained a mathematical puzzle to me. In 6/4 meter, the first movement opens with strings on the fifth beat of the first measure, with five F-sharp quarter notes, then three G quarter notes, then three A quarter notes, all 11 marked tenuto, placing us at once in a mysterious realm where a new kind of logic pervades. From the woodwinds, oboes respond pointedly and then horns soften the atmosphere, with conversation continuing until clarinets agree and the flutes comment; then the bassoons signal the timpani, and then the strings return. My point is that the colors of sounds overwhelmed mere numeracy as they, by patch and tract, revealed something heroic growing organically upwards to the sun which, as the first movement ends, at last shone on the simple motif with which the movement began.
While MTT led every soloist and section of the orchestra to bloom, I especially appreciated the luxurious sound of the seventy members of the string section which MTT fully employs as Sibelius must have wished in this exquisitely textured movement and in the entire work.
With timpani, a cloud appears as the second movement begins; and we are helpless, at times assaulted; and promises of relief are repeatedly withdrawn. Some repair might be available, and the spirit revives, only to see the full scope of the tragedy of which we are a part. In this movement MTT's interpretation merits special praise as he lengthened pauses and deepened the sonorities of pathos and resolution and even reverence.
The Third Movement pulls us forward energetically but then we pause for an oboe solo meditation, transformed by flutes and strings into sorrow. Without pause we are into the Fourth Movement with a taste of triumph. But we return to a struggle for the portal of heaven wherein we gaze upon, but do not enter, the sublime beauty. Ascending and descending woodwinds remind us of every step we have taken, of every rung of the ladder up and down, repeatedly, until, when joined by the brass, the sun shines and we are reconciled with all the world in a glistening glory.
This music is a sum of the human drama, austere, sensuous, failing and noble, broken and whole. Michael Tilson Thomas and the San Francisco Symphony brought us more than springtime on March 21. We were given a vision beyond seasons, beyond years: the very character of time itself.
The encore was a delightful going-home confection, an excerpt featuring woodwinds from the Tchaikovsky Orchestral Suite No. 1. Many folks stayed for a brief Q&A with MTT and Tetzlaff arranged by Harriman Jewell.
—VERN BARNET
---


#Melnikov
contributed to KC Arts Beat
March 10, 2019 190310
"A CIRCLE OF FIFTHS"
Alexander Melnikov plays the rarely performed
24 Preludes and Fugues by Dmitri Shostakovich at the Folly

If you are not a pianist or unusually lucky, you may not be familiar with the "24 Preludes and Fugues" by Dmitri Shostakovich (1906 – 1975). The complete set is seldom performed. But if good luck strikes, you will fall in love with them I did Sunday afternoon as Russian pianist Alexander Melnikov played them at the Folly as part of the Friends of Chamber Music Muriel McBrien Kauffman Master Pianist Series. Two hundred years after Bach's death, Shostakovich composed Opus 87 in 1950-51, between his 4th and 5th String Quartets and before his 10th Symphony, during the second "denunciation" by the Soviets.

It is tempting to listen to Shostakovich with such biographical and political ghosts purporting extra-musical meaning. In this case, the evident subject of this sequence — a "circle of fifths" comprising every major and minor key of the chromatic scale — may be music itself. But this is not a mere technical or academic demonstration of the composer's skill and wit. It is also, to use the word that is the Friends' theme this season, "transcendent."

Cynthia Siebert, president of The Friends, said that this work may be the most important 20th Century work for the solo piano, an instrument vastly different from Bach's keyboard. Melnikov, who performed from a color-highlighted score, at times reminded me not only of the clavier, but also a xylophone, a carillon, and a harpsichord. The extraordinary dynamic range Melnikov produced, and the subtle pacing and phrasing, invited the rapt audience into the reverence he has for the work.

The opening Prelude and Fugue in C was a lazy summer afternoon, and betokened nothing of the chase of No. 2, the Prelude in A Minor or the following fugue romp which sounded like a quotation in every other measure. The program notes identified the Symphony No 4, and I wonder if he took snatches from other places as well.

I'm not smart enough to catch many of the musical allusions Shostakovich makes to Bach and others, but I was particularly struck by the Prelude in F# Minor (#8) with its klezmer twists, followed by a dark and unrelenting fugue, and it was hard for me not to think of the then-recent Jewish suffering, beyond the formality of pure music. (And I thought ahead to his Symphony No. 13 with its use of the famous Yevtushenko poem, "Babi Yar.")

The final Prelude in D Minor begins with a declaration of assurance but quiets at measure 31 to introduce the first of the double fugue subjects to follow. At measure 112 of the Fugue itself, the second, contrasting subject is introduced, and at measure 218, with the two subjects joined, Melnikov almost elevated me out of my chair. At measure 261 marked Maestoso, and especially by measure 283, and even more in the last three measures of the afternoon, Melnikov brought together an insistent dignity that transformed what could have been a pleading instead into a transcendent call — not only across the centuries but within the full meaning of human struggle. The fugue began as a shoot from the ground and became the axis mundi.

T.S. Eliot called for poets to preserve the art of the past, and thus to extend and improve the language of the day. Whether or not Shostakovich was thinking along parallel lines when he composed this tribute to the "Well-Tempered Clavier," we are not only directed back to the baroque master but also brought forward into fresh musical experience.

—VERN BARNET