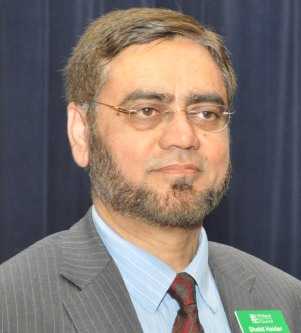 ---
CITATION
The Steve Jeffers
Interfaith Service Award

The Greater Kansas City Interfaith Council, 2016

Shakil Haider, a prominent member of the Muslim community, has been involved in local and national levels of interfaith and community involvement, with accomplishments that cross many disciplines and participation in interfaith and multicultural activities and events. He has been active in the interfaith movement for many years and is a long-time supporter of the Greater Kansas City Interfaith Council. He is a founding member of "GKC People of Faiths of Peace" and "Festival of Faiths," fostering awareness and interaction between people of diverse faith.

He is a known spokesman for the Muslim community, serving as Chair of the Midland Islamic Council and former Chair of the Islamic Center of Kansas in Olathe, KS, and is a board member of Shawnee Mission Islamic Education Center. He has also been active in the broader civic areas of civilian relationships, public-law enforcement relations and corrections, working across religious and cultural lines to address issues of poverty, hunger, and misunderstanding.

As Vice President of the Johnson County Interfaith Hospitality Network, he empowers homeless families challenged with poverty by engaging people of faith. As a mentor in the Life Connection Program of the Department of Justice he works with inmates to promote their transition to productive lives. He is Collaborative Partner of the White House Office for Faith-based & Neighborhood Partnerships under FEMA and Missouri's SEMA program, actively working with the locally settled refugees in solving their issues.

In 2006 he was selected as a member of an interdenominational group that met with Turkish officials to tour that country and broaden international faith and community relations. For over four decades, he has worked for human rights at the local and national levels of the Congress of National Black Churches, has served in various civic positions at the local and state level, and in numerous capacities, including the Executive Board of the Jazz District Redevelopment Corporation and as President of the Greater Kansas City Chapter of Operation PUSH, an organization dedicated to the promotion of religious and social development and human rights.
Cell: 913-687-3900
Fax: 888-788-3052
Email: shakil.ks@gmail.com

Shakil Haider
Chairman, Human Relation Commission in City of Olathe, Kansas.
Handling acts against discriminations in housing and employment.
Graduate of:
· Johnson County Sherriff's Police Academy
· Olathe Citizen's Police Academy
· Olathe Civic Academy
Vice President, Johnson County Interfaith Hospitality Network
(Shelter in Olathe, KS). Empowering homeless families by engaging people of faith in Johnson County (2,600 and growing).
Mentor, United States Penitentiary, Leavenworth, KS in the Life Connection Program
The program strives for the successful reintegration of inmates in our society.
Festival of Faith (Steering Committee member)
Fosters relationships, dialogue and understanding among religious and spiritual traditions.
Collaborative Partner (MIC) of White House's Office for Faith-based & Neighborhood Partnerships (under FEMA) and Governor of Missouri's SEMA Program.
Leading the department's efforts during major disasters by closely working with senior governmental, state, local, faith-based and voluntary groups.
Chairman, Midland Islamic Council.
MIC is an umbrella organization. Harnessing collective strengths of member organizations in Kansas and Missouri.
Former Chairman of the Islamic Center of Kansas, Olathe, KS.
Conducted religious, educational, social, civic and charitable activities and established good, healthy, and friendly relations by presenting true Islam to our neighbor and people of other faiths by promoting better understanding. Promoted and organized regular interfaith gatherings.
Profession(s):
Formerly B747F LM & Aircraft Maintenance Dispatch. Currently in operations management of a local technology firm..
Hobbies:
Public Speaking (True Islam and Cultural Practices of Muslims), Mentoring Inmates, Engraving, Signs, Flying, Skydiving, Aviation . . . .