revised 14.09.01 .On the web since.1997.


Map of Main Street Corridor west with near sections of Westport and Plaza
East of Main, W 47th Street becomes Emanuel Cleaver II Blvd, formerly Brush Creek Blvd.
South of 43d Street Broadway becomes J C Nichols Parkway, and Broadway brcomess Wornall south of 47th.
The Westport Coffee House, 816.756.3222 -- 4010 Pennsylvania Ave, is the BLACK spot.
C=Californo's, 816.531.7878 -- 4124 Pennsylvania.
Zoom out to KC -- Zoom out further to KC area -- Hiwy Map -- Vern's photo & bio -- More coffee/eateries -- NYTimes on Westport
Westport Road is a neighborhood road for visitors and shoppers, not for thru traffic-- use 39th, Broadway, Main, 43rd.
---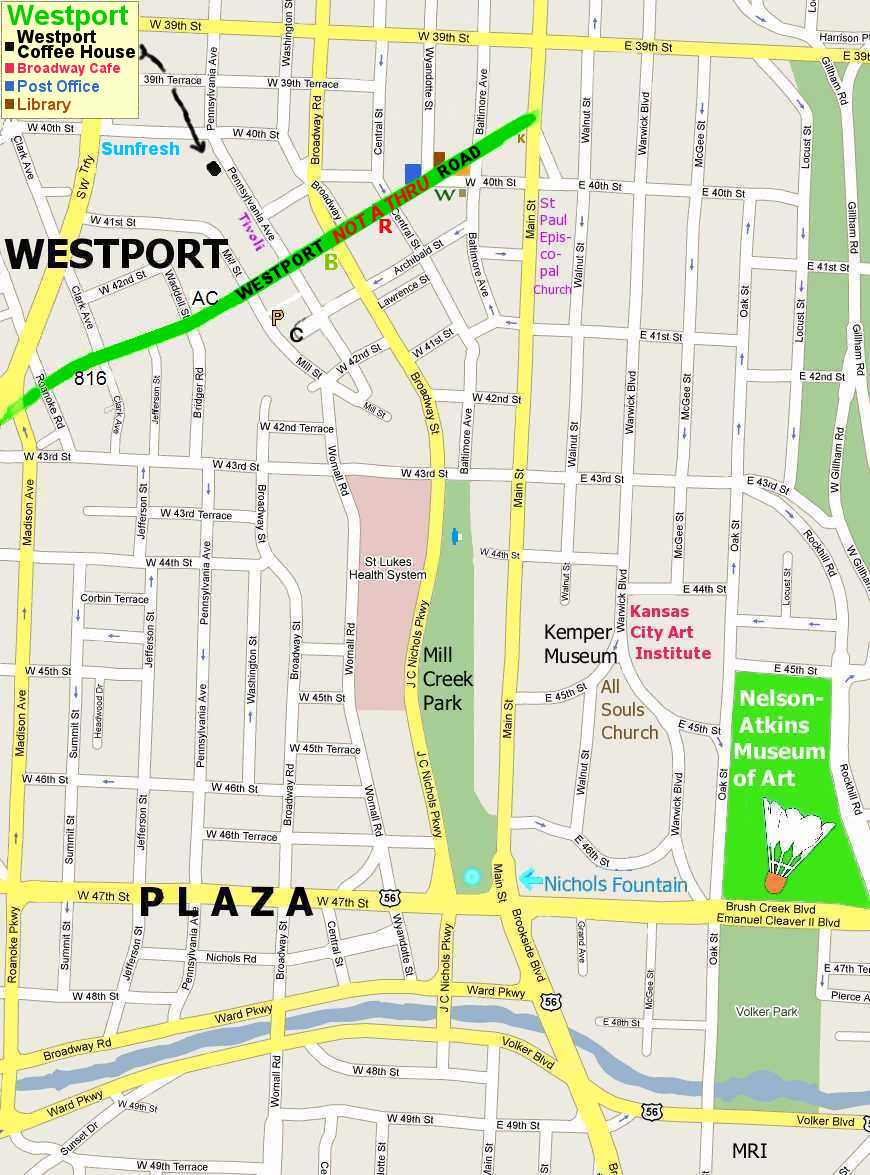 ---

Not to be confused with The Broadway Cafe, 4106 Broadway, one door down from the Southwest corner of Broadway and Westport Road:
The Westport Coffee House
I like the Westport Coffee House because it is usually quiet enough to actually have a conversation. It has a private room often available and a large choice of hot and cold drinks and some snacks. Address: 4010 Pennsylvania Ave, on the west side of the street, between entrance to the covered parking garage and the open parking area; phone 816.756.3222 -- the black blob map on my website at http://www.cres.org/pubs/map_westport.htm. This is walking distance from my house, so it would work for me simply to meet you there. I am being picked up for another meeting elsewhere thereafter, and this would make it possible for me to keep that appointment without concern about transportation time. Is this agreeable?
---
NOTE the new expanded curbing at Main and Westport to slow traffic from Main to Westport. Also from
http://westportkcmo.com/parking-in-westport/

"Westport was originally designed for pedestrians and horses, hence the narrow streets and the zero lot line buildings. It's roads were never intended to be a high-speed thoroughfares or arterial roadways for automobiles. At best, the narrow historic streets of Westport could function as low-speed neighborhood streets.

"With the addition of four-way stops at the Westport Road intersections with Pennsylvania Avenue and Mill Street, attempts are being made to bring this historic roadway back to the pedestrian focus it had lost when thousands of cars were speeding through just to avoid catching the next traffic light. A vehicular trip eastbound or westbound on Westport Road will now take longer with the recent traffic calming changes. At the same time, pedestrians will now find it easier – and safer – to cross Westport Road. Through traffic just trying to move from east to west across midtown are encouraged to consider alternative routes such as 39th Street, 31st Street, 43rd Street or 47th Street."