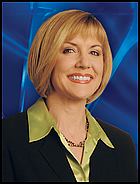 It is a pleasure to be here tonight… an honor to be invited to speak… and a joy to talk about Doa'a. I would like to clarify something… It wasn't me!!!
I was the catalyst… I saw her first. I can beg and bully and extract favors from everyone I know…
But the real work has been done by the host families, the drivers, the translators, the doctors, the dentists, therapists and everyone else who donated.
When Manahz asked me to speak about Doa'a she said she wanted to know "why did you pick this child?"
Actually, I have many people ask me variations of that question… how did a blonde haired blue eyed Roman Catholic from Kansas become so involved and inspired by a little girl from the Middle East? That's the story I'd like to tell you tonight.
There wasn't a lot of cultural diversity in Overland Park when I was growing up… The only time I remember hearing the term "Palestinian" was during the 1972 Olympics in Munich when I was a kid.
I am sorry to say I thought Palestinians were terrorists who targeted the Jewish people, and the Christians were always trying to be the peacemakers.
I found that perception challenged 10 years later in college at the University of Arkansas.
As a broadcast journalism major… I was home, every evening in the TV room of my sorority house.. flipping though each national newscast.
One evening EVERY newscast had the story of what happened at sabra and shatila… Palestinian refugee camps.
Every Palestinian I am sure knows the story. Genocide carried out by Lebanese Christians with… some say the blind eye of the Israeli military… against innocent Palestinian refugees.
Wow… I was confused. I thought the Palestinians were the terrorists.. the Israelis were the victims and the Christians are supposed to be the good guys.
The college kid from Kansas had a lot to learn.
And I did learn. I spent the next ten years… on a personal search.. to understand the conflict in the Middle East.
Reading about the region… the Balfour agreement, the holocaust David Ben Gurion, the diaspora.. the war in 1948.
My interest intensified during Operation Desert storm
… I did stories on Islam with the possibly 10 Muslims who lived in the Quad Cities where I worked at the time. I will always remember their patient kindness.. over tea in the town's Moroccan restaurant they gave me books about Muhammad, the Koran, and were eager to tell me about their faith.
I read everything Thomas Friedman wrote… and recommended From Beirut to Jerusalem to anyone interested in learning about the Middle East.
I joined the Middle East Institute.. and on Saturday nights I stayed home, ordered Chinese food and read the journal of Palestinian studies.
Was that the sign of a woman driven to discover truth… or someone with no ability to find a social life? I don't know, but my family and friends were getting a little worried.
And they asked me… what is the fascination with Palestinian issues? I really didn't know. Because I didn't actually know any Palestinians.. but that would change.
In 2002, Gary Morsch, the founder of Heart to Heart International announced he was going on a two and a half week trip to Afghanistan after the war. With stops in Pakistan and finally Israel and the Palestinian territories.
I lobbied… no, I hounded… and begged my news director to let me go. It was a great story for sure, AT LAST I would be able to see the places I had read about for so long. And of course, that is how we came to meet our little friend Doa'a Al Dalou.
That meeting almost didn't happen. It was a tense time in Israel. Suicide bombings were happening nearly every day.
The moment Dr. Morsch, my photographer and I stepped into Ben Gurion airport.. we were separated, interrogated and told we would be deported, for reasons I have never fully understood. Thanks to a frantic middle of the night phone call to a friend of mine in Kansas City who knew the Israeli minister of health, we were allowed in the country after several hours of tense negotiating.
That night, we found ourselves trapped in a hotel in Bethlehem while Palestinian gunmen and Israeli soldiers shot at each other and anything else that moved. We had to drive out there in the dark.
I said about one hundred Hail Mary's under my breath and I was truly scared we would be killed.
The last day, Gaza was on the itinerary… but the only place I really wanted to go was home. My three year old little girl cried when I called to check in.. my boss had found out from the NBC network people in Afghanistan that we had accidentally driven through a tank battle while we were there, and she was getting concerned.
But this might be my only chance to see Gaza. I thought it would be the culmination of my personal study of the region.. but of course, it was only the beginning.
We had one hour in the Gaza Strip. Dr. Morsch thought we should use it by going to a health clinic that might need heart to heart international's help.
The place was packed with sick children.. undernourished and gaunt… I thought of my daughter Maggie back home and our happy visits to her pediatritian. You don't find many American clinics with lines for the children with sections labeled… severe anemia.
And then I spotted Doa'a. That beautiful baby with those big brown eyes. She didn't have an appointment that day… her mother, Intisar routinely haunted the clinic… hoping someone might be able to give her baby some help. She agreed to be interviewed.
Doa'a has a congenital defect called arthogryposis. She was born with club feet club hands and her hips out of joint. She has very little muscle tone.
Without major medical intervention Doa'a would not walk or ever be able to feed or take care of herself.
It's funny the things that cross your mind when you are in an intense situation. I thought of Miss Euba Winton. Euba was an elderly African American lady in Fort Smith Arkansas who ran the Malilu center at the Black Methodist Church. While working on a story at the start of my career she told me her philosophy of life.
She said, "My daddy always taught me when there is justice to be done and no one else is around.. there you are".
Well, there I was in this clinic in Gaza. And I did something a journalist is not supposed to do… I cried.
I cried for this little girl, for all the suffering I had seen.. for all the sadness in our world. Then.. wanting to be like Miss Euba Winton, I got involved.
The doctor told me that for a few hundred dollars Doa'a could travel to Egypt for a surgery that could correct her problems. I left Gaza telling him I would get the money, but I knew Doa'a would be coming here.
When I arrived back in Kansas City I had weeks worth of good stories to report from our travels… but the story from the Gaza Clinic was the one that just sat on my heart.
This is one of the reasons I still love the television news business.. because after Doa'a's story aired.. I had all kinds of offers of help from generous viewers.. some of whom still help Doa'a now.
After six months of daily work to secure doctors, therapists… hospitals a host family translators drivers, visas and humanitarian parole for a 35 year old Palestinian male… which is not easy…. Doa'a and her parents finally touched down at KCI.. and it was one of the most fulfilling days of my life.
I'd love to say "The End" they lived happily ever after.. but that is not quite the case.
Turns out Doa'a's disabilities are much more severe than we first thought. She requires years of surgeries and therapy.
There were cultural differences her parents had to adjust to, it was difficult for them to leave their other three children back home for six months.
But the experience broadened their horizons.. and mine too.. along with my family, friends and coworkers who heard me talk about Doa'a constantly.
For many people here, Doa'a became the face of real Palestinians.
That was illustrated beautifully by the weekend I brought their family with mine to our house at the lake without anyone to translate.
My sister says she was a little nervous… would they be militant, harsh, American haters?
She says she met a gentle, grateful, and fun family. People she said who obviously lived a difficult life and deserved to take a boat ride and relax.
My brother laughs when he tells the story of taking Doa's dad, Emad to get a fishing license. The woman at the lake of the Ozarks didn't have an abbreviation for Gaza to write on Emad's paperwork.. so she just put GA. Somehow my brother said if they were stopped by the water patrol he didn't really think the officers would believe Emad came from the state of Georgia.
For Doa'a's parents they learned Americans are not the monsters may Palestinians believe us to be. And ironically, two of the doctors who volunteered their treatment to Doa'a and her mother are Jewish… The Jewish community center offered Doa'a their special swimming pool for therapy and I simply could not have gotten the family through the Gaza checkpoint multiple times without the Kansas City Jewish Community Relation Board's help.
So… we have all learned.
When Doa'a arrived for her first visit to Kansa City three years ago… she couldn't sit up, couldn't crawl.. didn't speak the entire six months she was here even though she was nearly two when she went home.
Doa'a just left a few weeks ago.. after her second trip here.. now, she feeds herself, she walks with a walker and she can even take steps on her own. A small miracle.
And she told me… about one thousand times.. "I am a princess".. she certainly is… and in so many ways a typical 4 year old little girl.
Many times Intisar and I have mused over the twist of fate that brought us together. What if we hadn't gone to that clinic that day? What if she hadn't been there at that moment?
Pope John Paul the second said.. there is no coincidence in God's providence… and perhaps that's the case here.
So, back to the start of the story.. to address Manahaz question.. why did you pick this child? My answer is… I didn't pick her. Some one else chose her long ago.
I can now answer the question of why did I spend so much time learning about the Palestinans and the Middle East? It's clear now.. because someday that knowledge would be necessary to help a little girl.
When they arrived home in Gaza I received a beautiful message from Doa'a's mother… Elizabeth, Doa'a is not my daughter, she is yours. I believe she is. The plan for Doa'a is to return for more treatment in the next couple of years, in the meantime we will monitor her health.
The story is still unfolding and it's complicated. Doa'a's mother is pregnant and unfortunately this yet to be born child has severe heart defects.. and I am again begging and bullying and extracting favors from everyone I know.
I remain hopeful. We've been able to raise just enough money to get by… we always find… sometimes at the last minute.. one doctor, one hospital willing to help. It would be nice to have an excess of resources… but Doa'a has taught me… sometimes just enough will do.
I see many people here tonight who have given much of their time and money and hearts to our little friend from Gaza.. and I'd like to say once again thank you… If you haven't helped Doa'a in some way.. you'll be hearing from me soon… because no matter what our culture our background or religious faith… Doa'a is a child of God and worthy of our efforts to help her.
And in the end helping Doa'a helps us all.