---
A MASTERPIECE

Dear Vern,
Congratulations on creating a masterpiece!
I read your book with increasing wonder and appreciation. It is better than therapy, as it analyzes sexual-spiritual yearning more thoroughly than any of the therapists with whom I tried to discuss this persistent, insistent, overwhelming issue in my early adult life (age 16 to 45).
In fact, therapists actually refused to directly discuss the topic. Instead they would redirect my focus to what they considered to be "reality."
During those years I had been writing poetry, but after therapy I ceased to do so as I felt it was too self-indulgent. In fact the last line of my last poem was this question: "is poetry sublime or merely masturbation of the mind?"
Thank you for your inspiration and courage!

--With permission, withholding name
Greater Kansas City area



---
DAILY PRACTICE
I am really enjoying reading my friend Vern Barnet's new book Thanks for Noticing. I am reading and reflecting on one sonnet every day. Reading the sonnet, the epigraphs, and footnotes is like taking an interdisciplinary course on world religion, liturgy, spirituality and sexuality. Often the thoughts stay with me throughout the day and I return to the sonnet at day's end.
I have know Vern for several decades and continue to be amazed with his wisdom, insights, and ability to invite me to grow in understanding and appreciation of the human agenda.
I just watched the YouTube video of Vern reading the Opening Sonnet. It is great. I just posted a link on Facebook and already have a couple of "likes."
--The Rev David E Nelson, DMin
president, The Human Agenda
Gladstone, MO
---
YOUTUBE
Enjoyed the you tube link.....very nice and professionally done. Congrats!!
John Gregory
Kansas City, MO
---

VERN ROMANTIC F***ER MYSTIC
Very interesting web page, blog, and offer. Impressive. As is your wonderful book. I go through it slowly, only a couple at a time, savoring this essential Vern, romantic f***er mystic.
--The Rev Brad Carrier,
Ashland, OR
---
SEX IS THE KEY

from Comment added to YouTube video
Dear Vern:
Like most ministers I know, I have struggled with being honest about this. In my a book of poetry I wrote, SEX IS THE KEY TO LIFE ITSELF AND LOVE IS THE KEY TO LIVING. AND IF YOU WOULD A TRUE LOVE FIND, SEARCH WITH THE HEART AS WELL AS MIND.
As I know postage to England costs a good bit more, my credit card payment is more than you asked.
Love, and a prayer for peace in the Middle East.

--Richard Boeke
Horsham, West Sussex, United Kingdom
---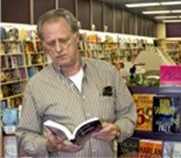 PULITZER PRIZE

Perhaps no more than ten or twelve people might read Thanks for Noticing all the way through and really understand it all, but if it's the right ten sets of eyes, it could win a Pulitzer Prize for poetry. It really is that good.

--Mark Scheel,

editor, writer, and former library information specialist. His 1997 book, A Backward View: Stories and Poems, was chosen for the J. Donald Coffin Memorial Book Award. His latest book is The Pebble: Life Love, Politics and Geezer Wisdom.
---
---

Byron Bradley

(Byrd) Carrier

Ashland, OR

January 7, 2016
Reviewing Vern's Sonnets: Thanks for Noticing
I wouldn't have read Thanks for Noticing: The Interpretation of Desire by the Reverend Doctor Vern Barnet were he not my friend from seminary. Vern was a bold visionary, too much for the staid faculty at our University of Chicago seminary, Meadville/Lombard. His three-volume D. Min. thesis on The Void may have perplexed and overwhelmed them. True to his brilliant mind and audacious quirks, he brings his encyclopedic knowledge of trans-cultural mytho-religious facts into his penchant to link the sacred and the sexual.
I'm impatient with poetry, especially sonnets. The odd phrasing and obscure words have to be dwelt upon slowly and repeatedly to tease out their gifts. Then the "Aha!" comes. Then the bemused smile fills the inner face via some pun or double-meaning. Then we share in his passion for passion – sexual and religious. For the reverend doctor, these two are not opposites; these play in union, each fulfilling the other.
For instance, in "Holy Words" he considers a friend's caution to back off from the sexual side in his religious poem:
I want an honest, open world, so I
must keep the holy law to consecrate:
my friends and every form of love I try,
each sacred chance, some fleshy, gay and straight.

From shame and shade these sonnets seek to pluck
such ancient holy words as "love" and "fuck."
For Vern, a great sin is the expulsion of sex from spirituality. He goes round the world and back through time to gather wider, wilder humane advice. Some he puts in his sonnets (which he recommends we read aloud to pull out their rime, meter, and meaning) and some in the interesting facts he provides at the bottom of each page. For instance, he finds Father Matthew Fox quoting Richard Rohr, "Of all the world's religions, Christianity has the biggest bias against the body. This is a disastrous theology. If I were Satan, and if I wanted to destroy Christianity, I would work overtime to tempt Christians to hate the flesh." (Pg. 192)

In "The Cosmic Christ" Vern puts it in the positive:
The world entire is Christ, distressed, alone,
a way of painting all we see and know,
the damned, the saved enjoined with laugh and moan,
a metaphor chamfering loved and foe.

So I'll be hurt to heal, be bound to free,
change ache to kiss and wrench eternity.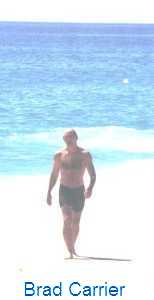 In a note at the bottom of a poem he writes: "God's playful delight is to behold us, to know us as we are, beyond human moral criteria. Similarly, when we love without need, intention, agenda, compulsion, claim, judgment, or dependency, but simply love by noticing, by witnessing, by beholding, loving freely as God does, we become like God. (Pg. 101)

This reminds me of a poem he used to use in his liturgies: "We are God, and eternally we rejoice and moan; the freedom scares us, the responsibility is immense." Vern has lived into his freedom and up to his responsibility, and I've noticed.

Do you like words and word-craft, far-flung theology, unusual facts and bold sex-positive affirmations? Do you like sonnets and Shakespeare? Can you read his gay stance into your preferred attraction? Then notice how opening his sonnets opens you. He'd like that.

--Brad Carrier
Ashland, OR



---
Sonnet 11 "Kitchen Cockroach"
I've just begun reading Vern's sonnets and I have to say that, among the many laudable aspects of his poetic style, what I find most intriguing is his ability to imbue mundane, oft overlooked moments in daily life -- a cockroach loafing in the kitchen unaware of its impending immolation -- with a sense of cosmic importance, philosophical profundity, even. This effect is as charming as it is existentially troubling for the unsuspecting reader who, upon reading "Kitchen Cockroach," for example, finds himself rooting for the death of the cockroach right up until the moment he realizes that by merely adjusting the magnitude, he too is a cockroach in the eyes of the universe.
This poem is a meditation on something so simple, yet so remarkable: a higher life form destroys a lower one, or, after billions of years of violent expansion, the universe coalesces into two distinct beings, man and cockroach, in order to comprehend what it means to sacrifice and to be sacrificed in the same instant. One action does not cause the other, they are dependent on one another for the continuity of the universe. We are left wondering, as Vern puts it, "Is this fire hate / or love . . ." or is it something distinct altogether?
If this poem is any indication of what's to come in the rest of the volume, then I have no doubt that Thanks for Noticing will prove to be a worthy read!
Philip Noonan
Boston
---
THE FOOTNOTES
The footnotes are themselves worth the price of the book! And they are on the same page as the sonnet so you don't have to fumble in the back of the book looking for them.

Sonnet 84 "Postmodern Faith -- What is Truth?"
Is the earth 6,000 years old? Or is it 10,000? Who cares facts? A talking snake in the Garden of Eden? Who cares facts? My friends tell me that the Bible is the truth, the actual truth. But who cares facts? Evolution true? Global warming real? Irrelevant. Who cares facts? Thinking of stepping on ice that is a quarter of an inch thick? You might care facts. The Incans, Aztecs, Mayans and others engaged in sacred, ritual sacrifice of human beings, including children, as part of their faith that such acts would insure the fertility of the crops, ward off evil, and nourish and propitiate the gods, among other things. (You have stated in your commentary that worship is the enactment of myth, and ritual is a form of sacred play. Some kind of sacred play here!) But such worship cannot fail. And the Inquisition? Thousands of heretics burned at the stake to rid the world of evil. (Worship cannot fail.) For the sake of one Truth? One Truth with a capital T is not postmodern, but fundamentalist. I have a friend and I have relatives who believe that I am going to hell. They worship a God that is going to send me there. Their worship cannot fail? Really? It would be hard to find a question more absurd or dangerous than the last line of this sonnet.

Sonnet 124 "Destiny"
I appreciate the beauty and sensuality of the piece. Descriptions are specific and clear. I find them exciting. I am there.
As a person who identifies as atheist, I reject what feels to me a need/desire for some diety's approval. I believe I understand the author's intent to blend the sexual with the divine, and in that sense, the objective is met. I, personally, stand with the men in the joy of their sexuality aside from a diety. Celebrate it! It's wonderful!

Sonnet 101 "Jesus Would Have Loved This Man"
Vern, I was touched by #101. Yes, we are all against sex trafficking and the ugly side of the exploitation of women. But I know that for many men, perhaps women, too, for whom there is great loneliness in not being able to have a partner or connect intimately with another human being.
More important than just sex is to be able to have a conversation with another person, even if you pay for it. I see one of our important ministries the will to engage those who have no one to love or care for them. Particularly elderly men with no close family or little in the way of friends.
I've always believed that, when you walk into an elevator, a kind greeting to the other person standing there may be the only time that day someone spoke to them. You just never know.
--With permission, withholding name
Kansas City, MO
---
Thanks for Noticing: The Interpretation of Desire
"Vern Barnet is to sonnets what Robert Mapplethorpe is to photography."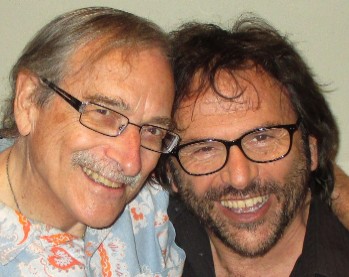 "I read a sonnet every night as a devotional practice."

--Phil Kenin
actor
director
playright
teacher.

photo of Vern and Phil taken at a rehearsal of the Heartland Men's Chorus
---
OPENED UP DISCUSSIONS ABOUT LOVE, SEXUALITY . . .
I've been in ecstasies of delight while reading your sonnets! I can't express how much enjoyment I'm getting from them. Thank you!
One experience that I wanted to say thank you for came from a sonnet of yours was with my [relative]. [Name] is in [his/her] early twenties and has experienced some sexual abuse and has some anger and confusion, partly from the experience, and partly from being simply young - and therefore, quite predictably angry and confused!
Name has not experienced the empathy [he/she] needs from [his/her] parents and other adults, and has sadly drawn the conclusion that all religious people would view [his/her] heart-wrenching pain and honest questions negatively.
I asked [name] if I could read some of your sonnets aloud in the presence of [him/her] and [other young people]. They opened up great discussions about love, sexuality, spirituality and interfaith dialogue over several days. My [relative] was in a state of marvel! Your poetry and the following discussions opened many new possibilities with [him/her], and gave [the other young people] and me an avenue to squeeze a little more empathy into [his/her] life, which [he/she] desperately needs. Thank you! —WITH PERMISSION
The View from This Seat
Reflections about Life, Love, Light, and Liberty (the 4-Ls) by Leroy Seat.
Barnet's Brilliant Book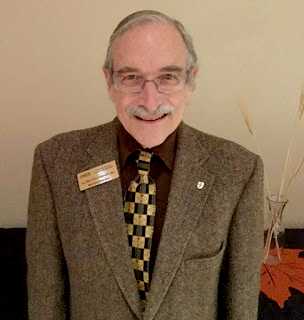 Vern Barnet has long been one of the outstanding religious leaders of Kansas City. The accompanying picture was taken of him at the 2016 Annual Interfaith Community Thanksgiving Dinner, held for the first time on the campus of William Jewell College.
The Barnet Award
At that most enjoyable gathering on Nov. 13, the Vern Barnet Interfaith Service Award was given to Lama Chuck Stanford, a retired Tibetan Buddhist leader who has long been active in Kansas City.
Barnet founded the Kansas City Interfaith Council in 1989, and after his retirement as head of that organization, the Vern Barnet Award was created in 2010—with him as its first recipient.
(Last year's recipient of the award was my good friend Ed Chasteen, former professor of sociology at William Jewell College. June and I enjoyed sitting at the same table with Ed and his wife Bobbie at last week's Thanksgiving dinner.)
For many years Vern (b. 1942) served as a Universalist Unitarian minister, and he is minister emeritus of the Center for Religious Experience and Study (CRES), which he founded in 1982. In 2011, however, he was baptized in an Episcopalian church, and is now said to be an active Episcopalian layman.
His main love, though, still seems to be interfaith activities.
The Barnet Book
Vern is also an editor and author. He co-edited the 740-page Essential Guide to Religious Traditions and Spirituality for Health Care Providers (2013). The most recent book he authored, however, is not directly about religion.
Vern's book Thanks for Noticing: The Interpretation of Desire was published in 2015. He describes the book as a "prosimetrum of 154 sonnets, glosses, and other commentary, in which the sacred beauty of sex and love is explored." (A prosimetrum is "a text composed in alternating segments of prose and verse.")
Vern's sonnets are consciously linked to Shakespeare's 154 sonnets. But, to be honest, I am over my head in trying to expound upon the meaning and significance of either Shakespeare's or Barnet's sonnets. But I have been moved by many of Vern's sonnets I have read.
For full disclosure, I must admit that I have not read nearly all of Vern's book, although I do intend to keep reading it little by little--which is the way it needs to be read. Thanks for Noticing is quite obviously a brilliant book as well as a very erudite one.
Barnet's Sonnets 78 to 86
The 154 sonnets in Vern's book are grouped into eight sections with titles taken from the parts of a Catholic mass. The most theological part is the one titled "Credo," and those sonnets, numbers 78 to 86, are the ones to which I have paid the most attention.
(Many of the 154 sonnets are about sex and sexuality, and I will leave it to others to write about the meaning and importance of those.)
Sonnet 78 is titled "Advent," and as next Sunday, Nov. 27, is the first Sunday of Advent I have read and re-read that insightful sonnet—although the Eucharist does not have the same meaning to me as it does to Episcopalians or Catholics.
"Postmodern Faith: What is Truth?" is the title of Sonnet 84, and it ends with this couplet:
I know the Gospel is a pious tale,
But who cares facts when worship cannot fail?
By these words Vern seems to urge us to a pre-modern/post-modern "mysticism" that is not fettered by facticity. Direct experience of God (Ultimate Reality) is more than, and far greater than, having (or seeking) only factual knowledge.
That is one important lesson bundled in Barnet's brilliant book.
--
Leroy Seat, Ph.D
1307 Canterbury Ln
Liberty, MO 64068-3209
(816) 841-9586
Blog: http://TheViewFromThisSeat.blogspot.com
E-mail: LKSeat@gmail.com
Website: http://www.4-lministries.net/
Twitter: @LKSeat